Gallus Labelfire impresses with its exceptional stability during continuous operation
Dieter Finna (Click here for a German version)
The industrial conditions that high-performance users impose on their digital printing systems, places extremely high demands on their presses. The Gallus Labelfire has been equipped with special features to meet these challenges. As a result, it delivers a level of productivity in continuous operation that was previously unheard of in inkjet printing systems.
The Labelfire is the most widely used hybrid printing system on the market today. Serial number 50 went into production in spring 2020 and it is used for both label and folding box printing. At the core of the Labelfire system is a UV inkjet digital printing unit with seven colours plus white, which is supplemented by five flexographic printing units for varnish application, metallic and special colours and also for cold foil adhesive application. A rotary die-cutting unit allows finishing at full press speed.
»The strength of the Labelfire is its productivity« confirms Valentina Pasqui from Pasqui srl, one of the power users* from Italy. (* Power users are businesses who run the Labelfire in 24/5 operation.)
Since the launch of the Labelfire in 2016, a lot has changed in the market segment for hybrid machine systems. It transpires that it is precisely the requirements of high-performance users that give the impetus for the further development of machine systems. It is characteristic of such printers to use monitoring systems to specifically record the productivity of their machine systems via KPIs. If deviations from the standard occur, this starts the process to eliminate the causes, together with the machine manufacturer and other system participants, or to define goals that one wants to achieve.
Impressive mileage with high performance users
Gallus defines high-performance users as companies that operate the Labelfire in three shifts and achieve an average daily output of 30,000 to 50,000 running metres. With an average of 35,000 metres per day, top users achieve an average performance of 175,000 metres in a 5-day week. Even higher weekly outputs are reported by »frontrunners«, businesses who work the Labelfire 24/7, for example at Philip Morris production sites. In folding carton printing, run rates of over 300,000 metres/week are achieved. With this high productivity, up to 8000 litres of digital/inkjet ink are printed per press per year. The performance of the hybrid press system is also reflected in the ink consumption of this magnitude.
Performance parameters of the High Performance User
♦ UV DoD inkjet printing: 7 process colours (CYMK+GOV) + white
♦ Physical resolution: 1200 x 1200 dpi
♦ Inkjet print heads with 2048 nozzles each
♦ Smallest droplet size 2pl
♦ Average linear metres per press: 35,000 linear metres/day
♦ Ink consumption per machine/year: up to 8000 litres
♦ Press equipment for label printing (conventional + low migration) and folding carton printing)
"The newly developed control of the print heads that Gallus has incorporated into the development of the digital printing unit, is a key contributing factor towards more stable print quality at high speed," says Martin Leonhard, Head of Business Development, Gallus Ferd. Rüesch AG.
What changes led to the increase in stability?
»The newly developed control of the print heads that Gallus has incorporated into the development of the digital printing unit, is a key contributing factor towards more stable print quality at high speed«, says Martin Leonhard, Head of Business Development at Gallus Ferd. Rüesch AG. Colleague Uwe Alexander, Digital Product Manager adds, »In addition to this improved print head technology, the Labelfire is equipped with a range of coordinated control functions that qualifies it for permanent use in industrial 24/5 or 24/7 operation«. Now that the machines in the market have received these updates, the success of the enhancements is evident in the feedback. »The strength of the Labelfire is its productivity«, confirms Valentina Pasqui from Pasqui srl, one of the power users from Italy. This can be traced back through key figures of the running performance, which show impressive development.
Fixing of the ink droplets
Stability factors include, for example, pinning modules located behind each row of print heads. They fix the individual ink droplets on the substrate before the ink droplets of the next colour are added. This prevents the colours from running into each other, which would lead to blurred reproduction or a colour shift (bleeding).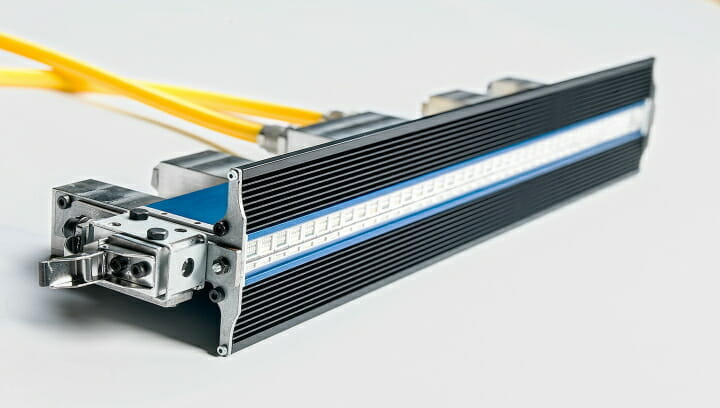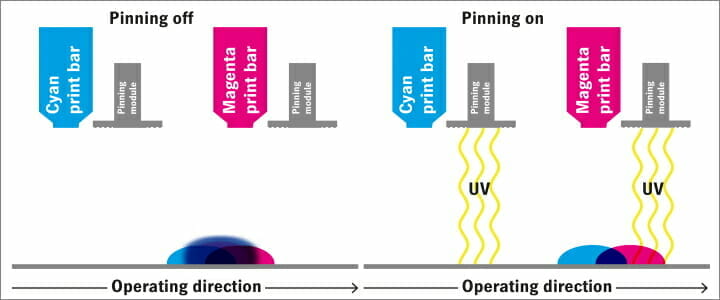 Detection of defects and density irregularities
Automatic detection of defects and density variances also makes a significant contribution to process reliability. This is done via a camera, which identifies faulty nozzles. Once a defective nozzle has been detected, it is compensated for in a second step. The system uses an algorithm to calculate the necessary compensation so that defects are eliminated by triggering additional ink droplets or by deflecting the ink droplets.
Vision system and touch screen control panel
For the operator, a significant contributor to process reliability comes from ease of use.While the machine is running, the operator can see the print image directly and control the functions of the hybrid machine from a single position. He receives input from the vision system, installed below the last row of print heads. A camera monitors the web, which is illuminated from one of the three available LED light sources at different angles, depending on the printing material. The results are transferred from there to the operator's HMI (Human Machine Interface) touch screen control panel. The automated register control of transverse and longitudinal registers of the print unit is particularly helpful for the operator in the edition print. If register errors are indicated to the operator, he can adjust them by simply pressing a button. In day-to-day operation, this saves time and set-up waste.
Prinect DFE (Digital Front End)
In the prepress stage, Prinect workflow software prepares the print data and makes it ready for printing. Prinect also takes on the task of qualifying the substrates, creating suitable colour profiles for them and defining spot colours accurately. During production, the front end makes a significant contribution to the process reliability by offsetting and compensating density variances as well as imperfections caused by missing nozzles. This can be proven through repeat orders, which show a very high level of colour accuracy in comparison with different editions.
Service package
Maintenance of the machines used in 3-shift operation also contributes to process reliability and places corresponding demands on the processes. On-site preventive maintenance by Gallus technicians is part of the service package that Gallus offers for safe operation.
It has proven beneficial to train staff to enable them to identify and qualify errors on site. When troubleshooting, they are supported by the Gallus hotline in Switzerland, while spare parts logistics are handled by Heidelberg country representatives. This means that the required spare parts are available on site within 24 hours.
Summary
With the new control of the digital print heads and a series of coordinated control functions, Gallus has succeeded in creating an extremely stable digital printing system for continuous industrial operation. The stability and productivity of these printing systems at high-performance users demonstrate values that have not previously been achieved in continuous operation.
Even if inkjet digital printing systems are considered to have somewhat sensitive print head technology and rather frequent maintenance intervals, these practical examples demonstrate that this should not be a generalisation. Digital printing systems such as the Gallus Labelfire have been proving themselves for months in 24/5 and also in 24/7 continuous operation.
This new situation is also the first step towards a paradigm shift in digital printing. While digital printing systems have until now often been seen as a supplement to conventional presses with advantages for short and very short runs, the Gallus Labelfire is a system for continuous industrial operation.